LOVE SUSTAINABLE SOCIETY NEWSLETTER FROM 
ELEMENTARY SCHOOL MAKOLE
At Osnovna šola Anice Černejeve Makole we have carried out lots of activities within the project Love Sustainable Society where we worked with Osnovna šola Kajetana Koviča Poljčane, Osnovna škola Stari grad Užice Serbia and Vilniaus Antakalnio Progimnazija, Lithuania.
As distance learning became an important part of the project period for all four schools, we had to do several activities online, also, the coordinators, teachers, and students met online as well. 
October 2019
We presented the project at school to the students, teachers, parents, and the community.
We designed the project bulletin board.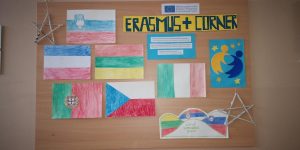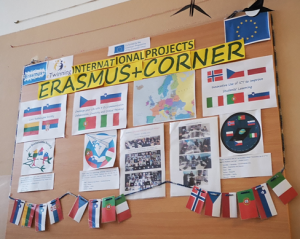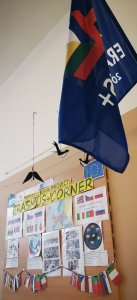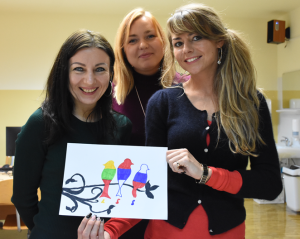 We designed the project logo ideas.
December 2019
We took part in the Penpals mini-project, project partners' student correspondence in English, and all letters were handwritten.
Students made Christmas and New Years' greetings and exchanged them with project partners.
We had an English language class discussion about Christmas in Slovenia, in Lithuania, and in Serbia.
We presented and learned about partnering countries. Students made PPT presentations and we've had class discussions in English, Geography, and Slovenian lessons.
We decorated the school with eco ornaments from recycled and natural materials.
We had the school's flea market of well-preserved books and toys.
We made the wooden Christmas tree.
We started using sustainable glass bottles and reusable lunch bags.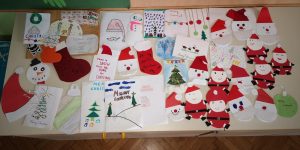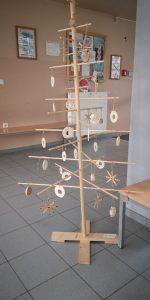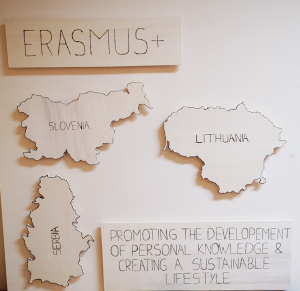 January 2020
We wrote compositions in English How to be eco-friendly.
Students carved the wooden plywood plaques in the technology class Project Partner Countries Carving.
February 2020
Students made a school survey and discussed the waste food problem at school.
At the school parliament discussion students discussed the sustainable green jobs and future sustainable job opportunities.
23 March 2020 – 24 May 2022
– Distance learning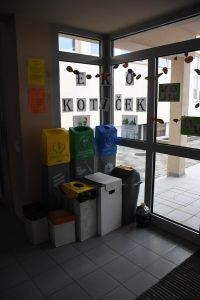 March 2020 – June 2020
Students carried out the activity to protect special, old and beautiful trees in the municipality or in the school area district. Students were motivated and a group of students was organized to make a plan on how to find such special trees, what to do to protect them, and ensure a healthy, green legacy for future generations. Students prepared an online questionnaire, using MS Forms, later a survey was made, and the trees were looked for and photographed.
We were writing articles for the school webpage or for local newspapers, took photos, wrote poems about trees, and prepared short videos about the activities.
During the whole project time we gathered local or homegrown seeds.
We recycle batteries, light bulbs, plastic corks, electronics, paper, and organic waste, plastic, and paper in the classrooms.
We collect plastic corks to donate as well. 
September 2020
Erasmus+ school team met and discussed possibilities to plant tiny-urban-Miyawaki-forests.
We established new Erasmus+ student groups.
October 2020 – 22 February 2021
-Distance learning
November 2020
17 November 2020 – video conference with coordinators from partnering schools took place.
We had an online Traditional Slovenian Breakfast on 20 November 2020.
Homemade traditional Slovenian breakfast, December 2020
We made and exchanged Christmas and New Years' greetings with project partners online.
Students made decorations from sustainable materials.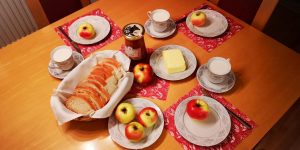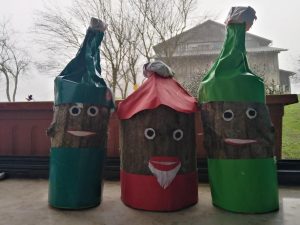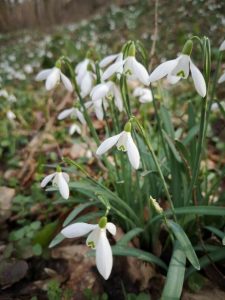 February 2021
We had Snow-bell day. We learned about the plant and visited the local snow-bell habitat.
March 2021
We discussed and learned about sustainable green jobs at the school parliament discussion.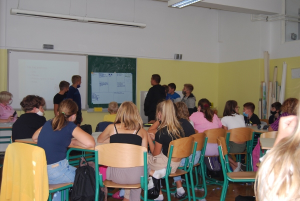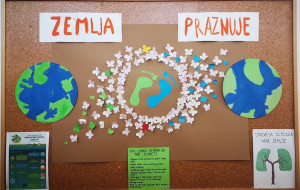 April 2021
Distance learning 1 – 11 April 2021
Earth Day activities – learning and speaking about the Earth emphasizing sustainability.
May 2021
Together with Osnovna šola Kajetana Koviča Poljčane we hosted the first virtual meeting with students and teachers from three partnering countries. The three-day virtual meeting took place on Wednesday, May 19, 2021. We carried out a virtual activity How well do we know the partnering countries?. As the hosts of the meeting, we prepared the Kahoot quiz for younger and older students. 25 younger and 25 older students took part in the virtual quiz. We carried out the remaining activities on the school day. Students made products from natural and sustainable materials and we planted some plants and trees in the Miyawaki way in the vicinity of our school.
We carried out these the three-day virtual meeting activities: 
KAHOOT QUIZ – Wednesday, 19 May 2021
28 May – planting bushes and trees for the Miyawaki forest
Sustainable workshops
On The Day of our School we planted the Miyawaki forest, wrote articles for the school webpage or for local newspapers, took photos, wrote poems about trees, prepared short videos about the activities.
We finished a mini-project Project about Trees, where students from the Barbara Gmeiner Kline class created poems on the theme of trees.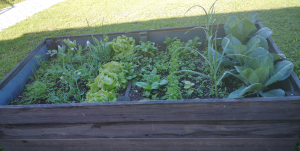 June 2021
We had the School sustainable garden day!
We prepared for the meeting in Užice.
August 2021
Virtual meeting of the coordinators – preparing for the meeting in Užice.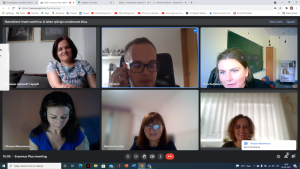 November 2021
Mini project on endemic species of Slovenia.
Traditional Slovenian Breakfast – home grown and home prepared food – breakfast and workshops. 
One of our 9th-grade students wrote an article on the topic:
On 20th November pupils of primary schools in Slovenia eat a special breakfast. We eat the traditional Slovenian breakfast. The breakfast contains bread, butter, honey, and an apple.
The aim of the project Traditional Slovenian breakfast is to inspire children for eating home-grown food that is also much healthier than the food from faraway places. Its aim is also to support Slovenian farmers and beekeepers, and learning children about the meaning of outdoor activities and the maintenance of the environment.
Since 2011 it has been repeated every year and it is always at the end of the third week of November.
I like the project Traditional Slovenian breakfast because the food is always very fresh and good. I think that the aim is really nice, because, in my opinion, the Slovenian food self-supply is too low.
Lucija Tolič, 9th grade
December 2021
On 8 December 2021, we had a virtual meeting with students and teachers from four partnering schools exchanging the sustainability topics and other project activities.  
December brings joy and laughter, but one must never forget about nature and act sustainably and green. Students of Osnovna šola Anice Černejeve Makole have created Christ  Erasmus+ day at school – a quiz, learning Serbian and Lithuanian words, goods, and food from partnering countries.mas cards and ornaments from natural and sustainable materials.
Erasmus+ day at school – a quiz, learning Serbian and Lithuanian words, goods, and food from partnering countries.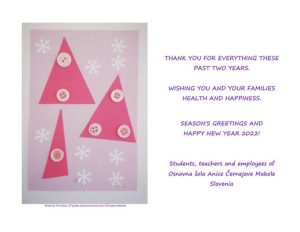 January 2022
We prepared the alphabet of sustainable development with students from 4th and 5th grade in Slovenian.
The alphabet of sustainable development
We created the four language dictionary on the topic of sustainability, that partnering countries will add and complete in their languages.  
Slowly, spring came, and our students were able to plant the seeds we had gathered since the beginning of our project. In the meantime, we were creative and acted sustainably and green to protect nature for the future generation. We carried out the Seed strip and Seed paper mini-projects, shared our ideas, and passed them on to our project partners. We published texts and pictures on TwinSpace.
Sustainability, ecology, and mobility are closely connected and will be even more in the future. That is the reason we acted toward them and learn about them. 5th-grade students and their class teacher Klementina Mlaker made a brochure, Bike and Sustainable Mobility. We encouraged students to walk and cycle not only during European Mobility Week but all the time. We published more on TwinSpace.
February 2022 – June 2022 
Students from 6th to 9th grade prepared an overview of local and Slovenian endemic species.
With students we explored the importance of a clean environment and we planned a visit to the local waste center.
We prepared the basis for a visit to the partner school, at the end of the project, in Vilnius, Lithuania, which was planned for 22 – 28 May 2022.
In Vilnius, participating teachers transferred the ideas of our students on creative solutions to environmental problems and knowledge of entrepreneurship and green jobs of the future, endemic species, and the importance of environmental cleanliness to the final meeting of partner schools.
                                                                                                                                             Nataša Kosajnč, 
                                                                                                                                             Erasmus+ school coordinator
                                                                                                                                             Osnovna šola Anice Černejeve Makole